Absolute Wellbeing's
DIGESTION DETOX PACKAGE
Your body will thank you for honouring yourself with this Digestion Detox Package. The digestive system plays a vital role in the health of the entire body. Therefore, as a naturopath, I always consider the health of the digestive tract before any other body system. 90% of our immune system lies within the digestive system adding to its overall importance to our health.
What you will receive
During this fun package you will receive a 1-hour kinergetics session.
We will test your status of hydration, magnesium, zinc and vitamin C which affect the health of digestion.
In addition we determine if kombucha is in fact beneficial to your body system.
We will release tension from the digestive system.
As we aim to increase the number and variety of beneficial yeast and bacteria in the digestive system for superior overall health, we will thoroughly 'check in' on any un-beneficial micro organisms and correct.
Release trauma held in the digestive system.
As more and more research of cell health evolves, electrolyte health in the spot light more than ever before. During this session we will enhance your electrolyte health thoroughly.
We aim for millions if not trillions of beneficial yeasts (and bacteria) to live happily within our digestive tract. A strain known to many which is not beneficial is candida. During this session we will evaluate your candida status and correct. This will leave you with a cleaner digestive system able to absorb nutrients better and relieve you of your sweet tooth.
The ileocaecal valve is a sphincter valve which separates the small and large intestines. The valve has two primary functions. The first is to control the flow between these two areas to serve as a barrier to prevent the bacteria laden contents of the large bowel from contaminating the small intestine. During the kinergetics session we will balance this area.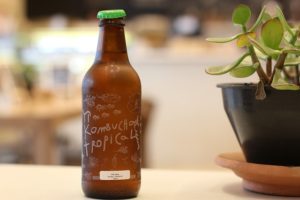 Now kinergetics has tuned your digestive system it is time to learn how to keep it in tip top condition. During the kombucha lession we will:
overview the specifics of the recipe and

process of making kombucha (It's mega simple)

You will as part of this package receive a SCOBY, Starter Tea and recipe 

to make your own kombucha right away

You will feel confident preparing kombucha for you and your family each week
In conclusion
As you may have already determined this package is indeed incredibly thorough. Your digestive system will be tuned like never before. You will take home the essentials in starting your own brew of kombucha. Are you as excited as me? See you soon.